Este año la mayor novedad DisneyWorld 2017 se llama Avatar Land. El mundo de Pandora llegará a Orlando, Florida de la mano de Disney este verano. Más que nunca debes preparar un viaje a Walt Disney World y sumergirte en la tierra de los Na'vis. Una experiencia que no experimentarás en ningún otro parque Disney del mundo.
Después de varios años de obras, recuerda que en 2014 empezó la construcción.
Y después de meses donde solo podíamos ver el avance de las obras gracias a fotografías de fans y alguna que otra breve información de Disney… ¡tenemos noticias!
Por fin, hace unos días nuestra compañía preferida compartió en sus redes sociales un vídeo donde desvelaba parte del entramado de Pandora.
En el vídeo podemos escuchar las voces responsables del proyecto. El peculiar Imagineer Joe Rohde, el productor de Avatar Jon Landau y el famoso director James Cameron.
Ellos nos cuentan lo que podremos encontrarnos en el místico mundo de lo Na'vis.
El Imagineer Joe Rohde habló sobre el proyecto y dijo "Hemos estado trabajando lado a lado con Jim y Jon para asegurarnos de que lo que hacemos sea fiel a la historia, los personajes y la visión de la hermosa, mítica y épica tierra de Pandora".
Seguro que la ambientación del área es igual de increíble como los paisajes de la película.
Además el veterano creativo de Disney añadió. "Estamos creando una experiencia transformacional que recordarás por el resto de tu vida."
Novedad DisneyWorld 2017 Avatar Land
En la mayor parte del vídeo podemos ver ilustraciones de concepto de arte sobre como quedará Avatar Land. Sin duda, quedarás sorprendido de pequeñas escenas donde verás como está quedando el fantástico mundo de Pandora.
Dos atracciones serán las que presidirán esta nueva tierra situada en Animal Kingdom. Las dos utilizarán la última tecnología existente.
James Cameron es una de las personas más emocionadas en ver el proyecto hacerse realidad.
Estamos seguros que, el creador de Avatar, desea ver su obra cinematográfica en el mundo real para deleite de los visitantes y de él mismo.
Na'vi River Journey, una exploración familiar
Na'vi River Journey: será una de las dos atracciones. Esta será una atracción familiar que algunos la comparan en parte a Piratas del Caribe, más que nada por la aventura fluvial que alberga en ella.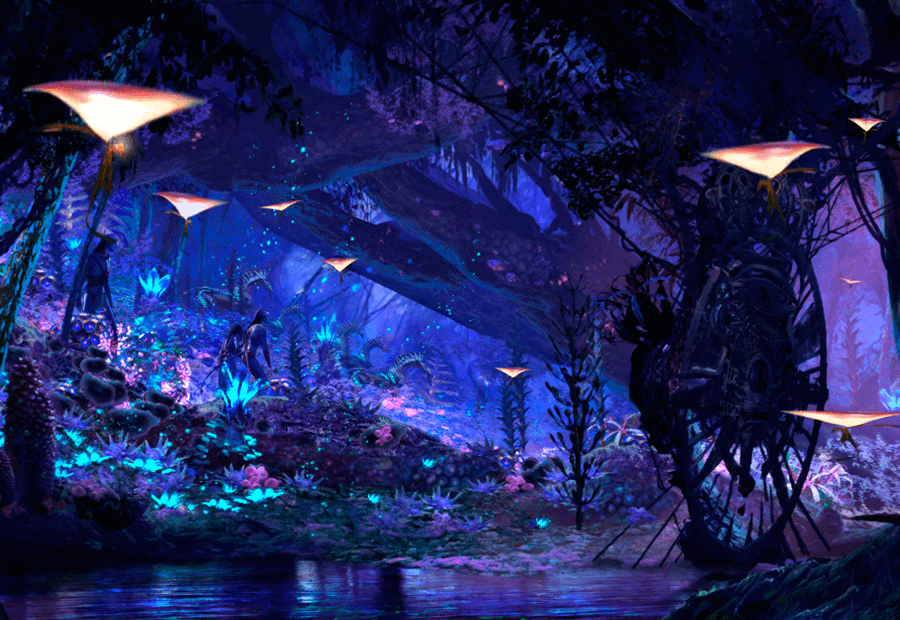 Según Disney Parks Blog, la aventura comienza cuando los huéspedes suben a unas canoas. Navegando por un río misterioso oculto dentro de la selva tropical bioluminiscente. La belleza de Pandora va cambiando al paso de las canoas. Plantas exóticas y brillantes criaturas nos rodearán en esta aventura.
El viaje culmina en un encuentro con un chamán Na'vi, que tiene una profunda conexión con la fuerza vital de Pandora y envía energía positiva hacia el bosque a través de su música.
Seguro que te ha encantado, ¿verdad? Ahora espera a conocer la próxima atracción.
Avatar: Flight of Passage, la Soarin' de Pandora
Avatar: Flight of Passage: sobrevolar Pandora a lomos de un Mountain Banshee. Una experiencia única que sólo podrás vivir en Walt Disney World.
Esta atracción será la más emocionante de la nueva área de Animal Kingdom.
Según Disney, la describe como una especie de Soarin' pero mucho más intensa. Vamos a sentir como el viento acaricia nuestra cara a altas velocidades subido en el lomo de esos enormes pájaros con toques de dragón y pterodáctilo.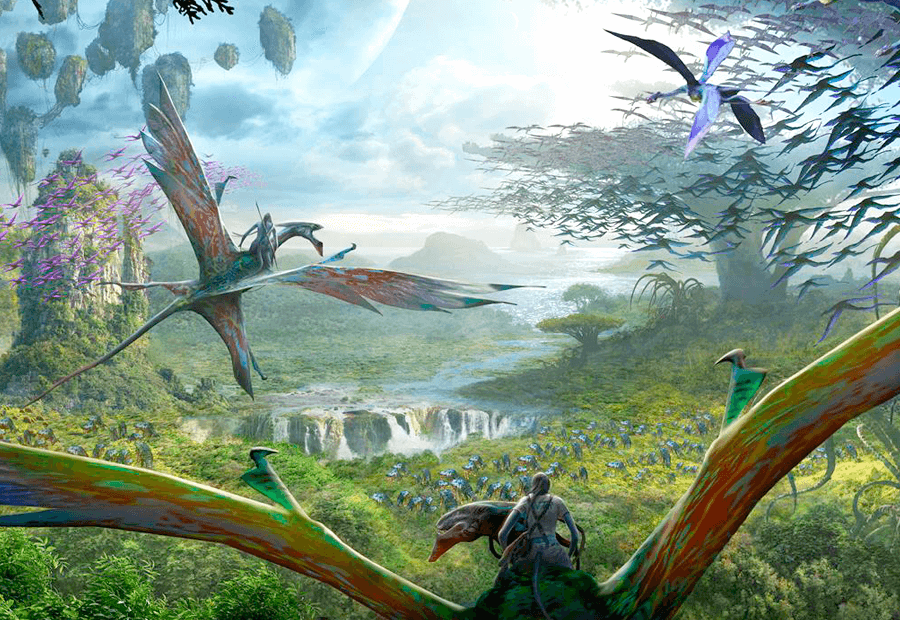 Fuente: disneyadictos